Advanced Certified ScrumMaster (A-CSM)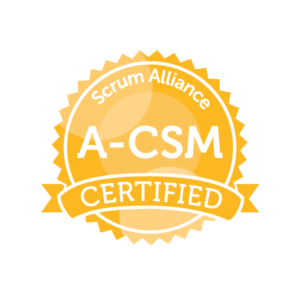 Welcome to the next phase of your Agile & Scrum Training!
In this program you will focus deeply on the following learning objectives and will be able to demonstrate advanced knowledge of:
Lean, Agile and Scrum
Agile Facilitation
Agile Coaching
Service to the Development Team
Service to the Product Owner
Service to the Organization
Scrum Mastery
Get a complete list of all learning objectives
Required Experience for Participants:
CSM with 1+ years of experience as a Scrum Master Certification: To be eligible for the Advanced CSM®, you must satisfy the following criteria:
Be an existing CSM® in good standing with the Scrum Alliance
Complete a pre-program assessment
Be prepared to share your personal experiences
Attend and complete the 2-day program
Complete a post-program questionnaire
Catalog 12 months of relevant work experience in your Scrum Alliance profile prior to the class
Note: *When registering for the A-CSM, please use the same email that is linked to your CSM on ScrumAlliance*
Course Summary:
As a Certified ScrumMaster® (CSM®), you've been introduced to Scrum values, practices, and applications. You now understand how to provide a level of knowledge and expertise above and beyond that of typical project managers.
Becoming Agile is a lifelong journey. Incorporating Scrum values and Agile principles into your world of work takes diligence, patience, and a commitment to continuous improvement.
To further enhance your knowledge and skills, the next step is achieving an Advanced Certified ScrumMaster™ (A-CSM™) certification from Scrum Alliance®. Our advanced offering is ideal for a Certified ScrumMaster who has one or more years of work experience in that role.
Find Courses in my Area
Course Location
Course Price
Course Dates
Course Details
IL - Chicago Area
Chicago, IL

$1495

Price: $1295

Good Through: February 25

March 21, 2019 -
March 22, 2019

Register
DC - Washington Area
Washington, DC

$1495

Price: $1295

Good Through: February 25

March 27, 2019 -
March 28, 2019

Register
MN - Minneapolis Area
Minneapolis, MN

$1495

Price: $1295

Good Through: February 25

March 28, 2019 -
March 29, 2019

Register
NY - New York Area
New York, NY

$1495

Price: $1295

Good Through: February 25

April 24, 2019 -
April 25, 2019

Register
MA - Burlington Area
Burlington, MA

$1495

Price: $1295

Good Through: February 25

May 22, 2019 -
May 23, 2019

Register
AZ - Phoenix Area
Phoenix, AZ

$1495

Price: $1295

Good Through: February 25

May 22, 2019 -
May 23, 2019

Register
VA - Herndon Area
Herndon, VA

$1495

Price: $1295

Good Through: February 25

June 26, 2019 -
June 27, 2019

Register
MN - Minneapolis Area
Minneapolis, MN

$1495

Price: $1295

Good Through: February 25

June 27, 2019 -
June 28, 2019

Register
GA - Atlanta Area
Atlanta, GA

$1495

Price: $1295

Good Through: February 25

June 27, 2019 -
June 28, 2019

Register