SAFe for Teams
SAFe for Teams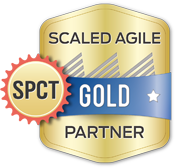 Our two-day SAFe for Teams course goes well beyond Scrum. It teaches Lean thinking tools, roles, processes, and the software engineering practices necessary to achieve the code quality you need to scale Scrum to your enterprise business context. The course is intended for new teams in an enterprise agile adoption program or can be used to re-baseline existing Scrum teams as required for scaling.
The course consists of lecture, experiential activities, and exercises to begin building actual team backlogs in preparation for the agile transformation. By the end of the course, teams will be ready for their first program-level release planning meeting, part of the Scaled Agile Framework (SAFe) Agile Release Train (ART).
The course begins with the principles of scaling: Lean thinking tools, Agile development practices at scale, and an overview of the Scaled Agile Framework.
Following this, teams learn the best practices for building quality software in a timebox.